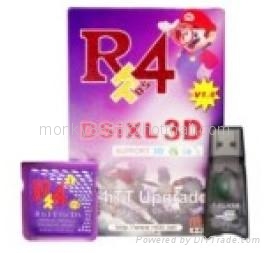 R4iTT 3D Upgarde MicroSD/TF
Product Description
R4iTT 3D Upgarde MicroSD/TF Multimedia Flash Card for NDSiXL / NDSiLL / DSi / NDSL / NDS (V1.6)

Upgrade revolution for DS(DSi XL/DSiLL/NDSi/NDSL/NDS)
- Compatible R4 (R4i) and Dstt (Dstti) all functions
- Please download system file before using the product:
http://www.r4itt.net

Support NDSiXL perfectly
- Support movies and games
- Support IP phone
- Able to memorize and restore to the previously selected game or application after restarting machine and soft reset.
- Sleep mode function, for power saving and longer standby time.
- Multi-languages are optional, they are Simplified Chinese, complicated Chinese, English, Japanese, French, German, Italian, Spanish and Dutch.
- Friendly interface, easy to operate.
- Realtime smart help windows.
- Integrated the latest Moonshell 2.0 Beta version.
- Game compatibility: 100%.
- No need to flash. Built-in launch Slot-2 (gba) function.
- Support SDHC micro sd cards (4GB8GB16GB32GB).
- Support DMA read and no lag while using any microSD card.
- Support FAT16 and FAT32. Files can be transferred with PC, PDA, Cellphone and Camera.
- Support clean ROM and drag-drop to play. Fast loading.
- Support NDS and DSi games. DS games can run on any DS versions.
- Files are to be saved directly to TF card, copy or restoration is not required.
- Automatically recognise saved new game types, no need to update the database.
- Support moonshell and home brew.
- Power saving design. Enter optimized mode automatically.
- Double screen UI, abbreviated picture and game title display, button and touch operations.
- Easy to use, setting or adjustment is not required.
- Support Wi-Fi, rumble pack and browser expansion.
- UI background can be changed.
- 4-level brightness adjustment.
- Support soft reset.
- Support AR cheat code.
- Support soft-reset of moonshell 2.0 (back to main menu of R4 NDSI by pressing START button).
- DLDI auto-patching.
- Support Download play.